Wimal says he will reveal more about the "international conspiracy"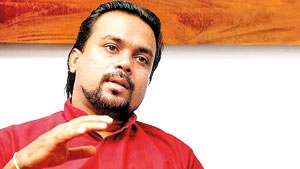 Wimal Weerawansa, once a firebrand of the left and now the leader of the Uttara Lanka Sabhagaya, a political party yet to be registered, wants President Ranil Wickremesinghe to probe what he terms an "international conspiracy" during the protests or aragalaya last year.
"We will seek a meeting to make this appeal after learning more details about the sinister plot," he told the Sunday Times. The first account of his claims was contained in a 135-page booklet titled "The hidden story of nine" which he published in April this year. He declined to provide details saying they "could be misrepresented." They would have to be first presented to President Wickremesinghe to establish a Presidential Commission of Inquiry. He said the President was aware of the revelations in his booklet and had acknowledged them during a speech when he was in London recently. "We do not want other parties to dilute the evidence we have," he argued.
He said he had originally made the request for such a commission from former President Gotabaya Rajapaksa before he went out of office. However, that appears to have been misconstrued. That was how he appointed a three-member Board of Inquiry, he said. He was alluding to the  panel chaired by Admiral of the Fleet Wasantha Karannagoda and comprised onetime Army Commander, General Daya Ratnayake and Air Force Commander Roshan Gunathilake, who is ranked Marshal of the Air Force.
As reported in these columns on May 7, a state agency has already conducted preliminary investigations into the allegations in the 135-page book which was printed in Sinhala. Weerawansa said that Russian and English copies of the book were now in print. There would be 10,000 copies more of the Sinhala version. He said he hoped to have them released by next month. The Russian copies make clear that more material linked to the United States connection has now been garnered. Weerawansa, a source said, had again made critical references to the alleged involvement of the United States Ambassador in Sri Lanka, Julie Chung. However, she has continued to flatly deny the accusations and describe them as "false."
Julie Chung offers prayers
The idea behind a state agency probe on his initial revelations, a government source said, was to ascertain the veracity of claims made on matters related to national security and similar issues. As reported earlier, when Gotabaya Rajapaksa held office as President, Weerawansa was considered a close confidant.  Both he and his party were also opposed to the United States. A decisive beginning of the Aragalaya (protests) was the events that took place outside the Mirihana private residence of former President Gotabaya Rajapaksa on March 31 last year. They left 40 persons including 24 policemen injured and 54 were arrested.
Here are extracts of those aspects as claimed by Weerawansa in his book:
"President Gotabaya and the rest at home had felt the threat of death. The President's Private Secretary Sugishwara Bandara had told his close friends and some members of the Rajapaksa family that they were risking death.
"By this time there was a close rapport between US Ambassador Julie Chung and President Gotabaya Rajapaksa. After the violence, the Ambassador called on the President. She had told him she sympathised with him about the pressure he had come under and said her prayers were with him. She went on to offer prayers in front of him. The President on the following day describing the incident to a Minster had given the impression that he was taken up by the gesture.
"Though President Gotabaya did not quit after the Mirihana incidents (involving his private residence) he moved to the President's House on the advice of the security chief. The protests were spreading, and clashes were taking place near fuel stations. US Ambassador Chung in a twitter message on April 2, 2022, defended the right for peaceful demonstrations and said she was closely monitoring the situation and thereby setting the stage for protests at Galle Face. The slogan here was Gota Go Home. The question was posed by journalists as to who would replace Gotabaya, but the response was it could be thought of, after he is sent home……"
Weerawansa also made a string of allegations against former Army Commander and now Chief of Defence Staff, General Shavendra Silva. He has, however, denied them strongly. In one instance, he has filed legal action in courts against Weerawansa.
Weerawansa claimed, "There is a great public interest in what we have revealed so far. We will tell President Wickremesinghe what more has happened. In the national interest, it is imperative that they are probed." He said we now know more about "the plans to form a caretaker government with certain persons being thrust to important positions. "Some of what we know has fallen into place," he said. "Recently, the US Central Intelligence Agency (CIA) chief was in Sri Lanka with some 20 others. We want the people to know what is going on."
Once a vociferous defender of the SLPP government where he was a Cabinet Minister, Weerawansa together with colleague Udaya Gammanpila was sacked from the Cabinet by the then President Gotabaya Rajapaksa. A source familiar then with the presidential household explained the reason for the sacking. Gotabaya Rajapaksa was quoted as saying that he had been advised by a very close relative in the family to remain united with his brothers, much like a stack of firewood or daramitiyak bound together. Hence, he had decided to sack the duo on the request of younger brother Basil Rajapaksa.
Weerawansa's Uttara Lanka Sabhagaya is backed by parliamentarians Jayantha Samaraweera, Nimal Piyatissa, Uddika Premaratne, Gamini Waleboda, Mohamed Muzzamil, Udaya Gammanpila, Vasudeva Nanayakkara, Weerasumana Weerasinghe, Professor Tissa Vitharana and Gevindu Kumaratunga.
Complete joke
Weerawansa also commented on another controversial issue now before Parliament. He described as a "complete joke" a move to appoint a Parliamentary Select Committee (PSC) to probe how Sri Lanka went bankrupt. "To me, it is clearly a move to whitewash Basil Rajapaksa, who was the finance minister in the SLPP government. Otherwise, why has the SLPP General Secretary Sagara Kariyawasam been named as the Chairman of the PSC? Why have members who are close backers of Basil Rajapaksa been included in the PSC?" he asked.
Weerawansa revealed that the Uttara Lanka Sabhagaya will attend the first meeting of the PSC, if it ever holds sittings, to lodge its protest. "Thereafter, we will express our displeasure over their appointment and walk out. We will not take part in any of their proceedings because they are biased and the exercise is designed to help none other than Basil Rajapaksa," he said. This is an attempt to make a joke of Parliament. Another such move by a Basil Rajapaksa loyalist is to empower ministers to decide to extend the life of local councils, he claimed.
The Parliamentary Select Committee to probe Sri Lanka's bankruptcy, according to recent developments, will be bereft of any opposition parliamentarians. JVP Spokesperson Vijitha Herath told the Sunday Times, "I resigned from the PSC on bankruptcy. The fourteen member select committee has nine parliament members representing the government. All these members are associates of the person responsible for the bankruptcy of the country — Basil Rajapaksa.
"Therefore, we do not believe that this committee would serve any purpose or find reasons for the bankruptcy and recommend remedial actions.
"It is useless to stay in such a committee which would have biases. The majority members would cover up the actions that made the country bankrupt.
The Speaker had appointed Sagara Kariyawasam, as the chairman of the select committee. He (Sagara Kariyawasam) is also a key Basil Rajapaksa loyalist, and the remaining eight members too are persons responsible for the economic breakdown and bankruptcy of the country. The rest of the government representatives are Pavitharadevi Wannarachchi, D.V Chanaka, Mahindananda Aluthgamage, Jayantha Ketagoda, Major Pradeep Udugoda, Sanjeewa Edirimanna, Nalaka Bandara Kottegoda and Professor Ranjith Bandara.
"Allowing them to investigate bankruptcy is a joke, these members could conceal the real reason for bankruptcy of the country. They will waste time and the tax money of the people," he pointed out.
SJB moves
The news of the PSC also resonated elsewhere. A controversial former Cabinet minister, who had been discussing the matter with a group, had declared that he would not hesitate to "topple the government" for being ignored a long time from being appointed a cabinet minister. When the news reached a government top runger, a message went back that his son who is in a Sri Lanka mission abroad and another in a secretariat in Colombo would have to find jobs. The politico not only retracted his earlier position but also is now on the frontlines garnering support for a no faith vote on a present Cabinet minister over shortages.  The main opposition Samagi Jana Balavegaya (SJB) is also opposed to the composition of the PSC.
SJB General Secretary Ranjit Madduma Bandara said, "We withdrew from the PSC because its members were among those who contributed to bankruptcy. The committee comprises supporters of a former minister, and they will favour him. It's like asking from a thief's mother whether her son is a thief like the Sinhala adage 'horage ammagen pena ahanawa wagey'. As the main opposition party, we cannot stay in such a disgraceful select committee.
"We have planned to set up an opposition's parliamentary select committee to investigate the bankruptcy of the country soon. We are inviting all the opposition parties to join our cause against corruption by taking part in our own select committee, Madduma Bandara said.
This select committee would have members from the common opposition as well as other opposition parties. "Our party too has a committee on bankruptcy at the party level. That committee, which is led by Mujibur Rahuman, consists of 10 to 15 members of parliament as well as other politicians in the party.
"The SJB is calling for local council elections. We even went to the Department of Elections on Wednesday (July 12, 2023) to discuss having early elections and to complain of the delay. We will protest. We are also taking legal actions and would relentlessly pressure the government to hold elections and allow democracy to prevail."
Other than these issues, the only other opposition member in the PSC is Shanakiyan Rasamanickam of the Tamil National Alliance (TNA). He told the Sunday Times, "Personally, I am not in favour of serving in the PSC. It is headed by a loyalist and supporter of Basil Rajapaksa who is 90 percent responsible for the bankruptcy. Therefore, my belief is that with this conflict of interest the committee would not be looking into how the bankruptcy occurred.
India visit of President
It is against this backdrop that President Ranil Wickremesinghe undertakes a brief visit to New Delhi on Thursday. Accompanying him are his Chief of Staff and National Security Advisor Sagala Ratnayake, Presidential Secretary Saman Ekanayake, and Ministers Douglas Devananda, Jeevan Thondaman, Kanchana Wijesekera, Foreign Secretary Aruni Wijewardena, and officials of the Ministry of Foreign Affairs.
Vinod Jacob, India's Deputy High Commissioner in Sri Lanka and now promoted Ambassador to Bahrain, told the Sunday Times, yesterday that "India-Sri Lanka relations have scaled new heights in the past 14 to 16 months. On the Indian side, the guidance is provided by Prime Minister Narendra Modi's Neighbourhood First policy. The success of this dynamic policy is writ large across the entire matrix of the bilateral partnership. As the Foreign Secretary of India, Vinay Kwatra said a few days back in Colombo, our objective is to ensure that the forthcoming visit of President Ranil Wickremesinghe to India is a huge success. Both sides are working hard to ensure substantive outcomes."
Other than the India visit by President Wickremesinghe, the government's priority of the Domestic Debt Optimisation (DDO) in different spheres continues to receive important attention. A leading international economist, Dr Shantha Devarajan responses to queries from the Sunday Times on how the economy has shaped since last year in a box story on this page. In another development, the government has refused a visa for Canadian parliamentarian Gary Anandasangaree to visit Sri Lanka. He is the son of Veerasingham Anandasangaree, a Tamil parliamentarian from the north