'President agreeable to bring in foreign judges since 2015'- Sumanthiran (VIDEO)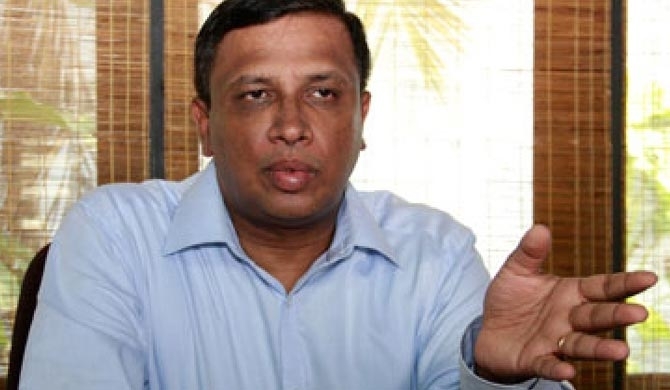 TNA parliamentarian M.A. Sumanthiran noted that the President was agreeable to include foreign judges in the war crimes hearings since the time he assumed duties in 2015.
Sumanthiran had said this during an interview with 'Gagana' upon his return to the country having participated in the UNHRC sessions in Geneva.
It is important to know what Sri Lanka has agreed to do under these three different resolutions, all of which are identical in content. Yesterday's resolutions refers to resolution 30/1 and reiterates, for the third time Sri Lanka's commitment to adhere to it, he noted.
He said after four years although the special war crimes tribunal has not been set up, and President Maithripala Sirisena had openly criticised this move, Sri Lanka has yet again co-sponsored a resolution which was adopted at the UNHRC on March 21 unanimously by all member countries. Sumanthiran noted that the resolution underscores Sri Lanka's commitment to adhere to the promises made in resolution 30/1 that was adopted on Oct 01, 2015 with the co-sponsorship of Sri Lanka. Sri Lanka has co-sponsored the resolution three time, resolution 30/1 on October 01, 2015, March 23, 2017 when resolution 34/1 was adopted and March 21, 2019 when resolution 40/1 was adopted unanimously.
He also noted that he was well aware that the country had co-sponsored the resolution with the complete approval of the President.
Thilak Marapana's protest:
A day prior to Sri Lanka co-sponsoring the Geneva resolution, Foreign Minister Thilak Marapana had strongly criticised the report on Sri Lanka by the UN High Commissioner.
UN High Commissioner for Human Rights, Michelle Bachelet pointed out in her report that the Maithri-Ranil government had failed to implement the promises made, proposing that foreign judges be included in the judiciary to hear war crimes allegations.
However, Foreign Minister Thilak Marapana noted that there are constitutions restrictions in setting up such courts including foreign judges.
"Without legislation we cannot have foreign judges sitting in our judicial system deciding the
capability of our citizens. Even if we bring in such legislation, the Supreme Court will strike it down. We cannot let a person who is not a doctor to perform a surgery by amending the Medical Ordinance. Likewise, when we speak of foreign judges, we do not know their qualifications," said Marapana.
Regarding claims that there is no space for foreign judges to participate in the Sri Lankan judicial process. That is false. If that was so, this could not have been signed by Sri Lanka. At the time it was signed, in October 2015, I was in Geneva and so was Minister Wijayadasa Rajapaksha, on behalf of the government of Sri Lanka. As the Minister of Justice, he raised this issue and then he agreed that it is possible under the Sri Lankan Constitution to have foreign judges," said Sumanthiran.
Wijayadasa Rajapaksa's proposal:
"Wijayadasa Rajapaksa brought up this argument in Geneva at that time, but having studied it properly, it was agreed upon that it was possible to include foreign judges and it was thereafter that this agreement was signed. Therefore, we cannot accept the argument brought forth by Thilak Marapana."
Sumanthiran said that the former Justice Minister had also submitted a proposal to parliament after his return from Geneva.
He pointed out that after the impeachment was brought against former Chief Justice Shirani Bandaranayake in 2013, Wijayadasa Rajapaksa who appeared on her behalf had presented a bill to parliament for the inclusion of foreign judges.
Sumanthiran said that the Tamil people are vehemently against the judicial process to hear these war crimes cases without the inclusion of foreign judges, adding that it was not their aim to punish anyone for simply engaging in the war.
"We are not asking that anyone be punished for having fought in the war. We are only asking that war crimes allegations be investigated," he said.
Ranil Wickramasinghe's 'Joke'.
However, Marapana pointed out in Geneva that none of the war crimes allegations against Sri Lanka had been proved.
Sumanthiran too agrees with Marapana, but said that without foreign judges, these war crimes allegations could not be investigated impartially.
"That is why we are asking for a hybrid court to which Sri Lanka has also agreed."
Meanwhile, Prime Minister Ranil Wickremesinghe had earlier urged that all that happened ten years ago be forgotten and those responsible should seek pardon and they should be forgiven.
Dismissing the Prime Minister's appeal as a 'joke' Sumanthiran said prior to asking for forgiveness, first the war crimes charges should be established. "Only after we have established what happed and who committed crimes, can we even begin discussing if these crimes can or cannot be forgiven."
He said in order to reveal the truth a powerful truth commission should be established.
The Cabinet had rejected a proposal presented by Prime Minister Wickremesinghe a few days prior to the Geneva conference for the setting up of a Truth and Reconciliation Commission.
The UN High Commissioner noted that if a Truth and Reconciliation Commission is to be established, it should include provisions for administering justice in accordance with international standards.