Trincomalee Sri Shanmukha Hindu Ladies College violated human rights!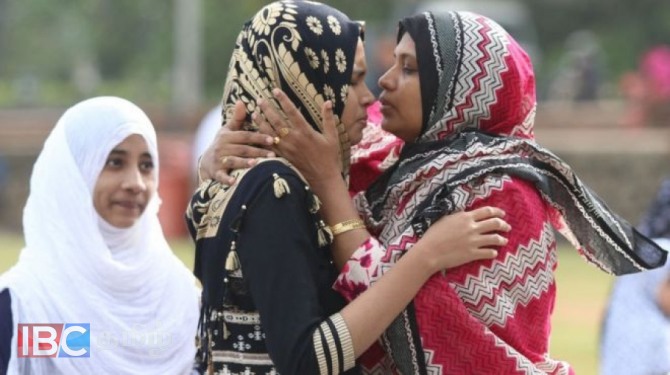 Sri Lanka Human Rights Commission said that the Hindu women's college in Trincomalee has violated human rights by hindering the Muslim outfit Hafaya.

Officials had taken action to transfer four teachers who were wearing the Hapaya dress and transferred to another school. In this case, the complaint was registered at the Trincomalee branch of the Human Rights Commission of Sri Lanka on 21st May, 2018 against this incident.

The complaint was registered by victimized college teachers.

Representatives of Trincomalee Sri Shanmukha Hindu Women's College, Director of Trincomalee Education Zone, Provincial Director of Education Ministry and Secretary of Education Ministry were named as defendants of this complaint.

Following this complaint, the Human Rights Commission of Sri Lanka issued a statement today.

The Sri Lankan Human Rights Commission has conducted inquiries into the school principal regarding this issue.

The Trincomalee Sri Shanmukha Hindu Women's College was founded in 1923 and the school is being run by the Hindu culture upto today to the present day.

The principal of the College  has already indicated that female teachers should be wearing saris while visiting the school.The principal pointed out that the four Muslim teachers who were te victims were appointed as teachers for school in 2013, 2014, 2016 and 2018, and indicated that they were provided with school rules the same day.

The Sri Lankan Human Rights Commission has stated that the school administration has stated that Hapaiah's clothing is not in the school's culture due to the fact that their school is a school of Hindu culture.

According to the Sri Lankan Human Rights Commission report, the National Schools in Sri Lanka should be committed to protecting freedom of religion based on the 10th Amendment of the Constitution of Sri Lanka and can not violate the rights.

The Commission has noted that the rights to the complainants have been violated as per the provisions of Article 12 (1) and 12 (2) of the Constitution.