Paris' Notre Dame cathedral 'saved' after massive fire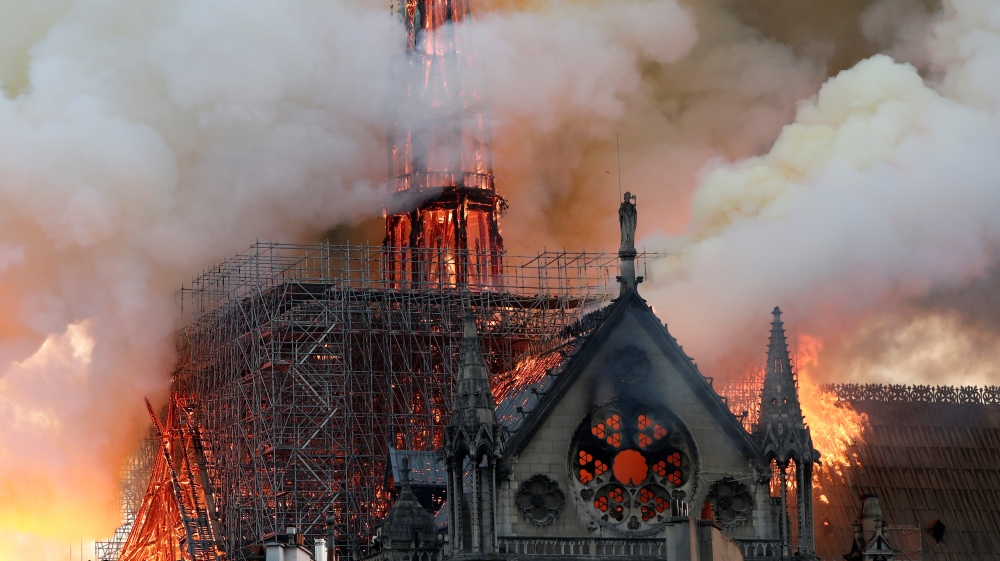 Paris firefighters have declared Notre Dame Cathedral saved late on Monday even as flames continued to burn in the wreckage of the Western cultural icon's roof.
The huge blaze, that started a little over four hours earlier, destroyed the timber roof of the Gothic building and about two hours into the conflagration, the upper part of the 93-metre-high spire swayed and fell as flames shot up.
About 400 firefighters battled the fire, aiming jets of water at the 850-year-old cathedral as solemn crowds watched quietly from behind police cordons.
Fire chief Jean-Claude Gallet said that the structure of the cathedral had been "saved and preserved overall" and its bell towers, at one point thought to be at risk, were safe.
French media reported that the fire might have been linked to renovation work. The Paris prosecutor's office said that "as matters stand" it was investigating a count of "involuntary destruction by fire".
The cathedral's most precious relics had been saved, rector Monsignor Patrick Chauvet said.
Shortly afterwards, French President Emmanuel Macron said "the worst has been avoided, even if the battle has not been fully won". Calling the cathedral "the very centre of our lives", he vowed that France "will rebuild Notre Dame".
"It is what French people expect, because it is what our history deserves, because it is our deep destiny," he told reporters at the scene.
His statement came as Parisians and visitors gathered to watch in horror and disbelief from the nearby banks of the River Seine as emergency workers fought back enormous flames coming out of the iconic Gothic landmark. The firefighters were unable to save the building's spire, which was toppled by the blaze, and large swaths of the structure's roof. 
The cathedral was in the middle of a $6.8m renovation, with some sections under scaffolding, while bronze statues were removed last week for works.
A church spokesman said the entire wooden interior of the 12th-century landmark was burning and likely to be destroyed. 
Those living close to the cathedral have been evacuated in case of a possible collapse of the building, Paris Mayor Anne Hidalgo said.
France's civil security agency said "all means" except for water-dropping aircraft were deployed to put out the flames.
But the defence agency said those were unsuitable for fires like the one at Notre Dame because dumping water on the building could cause the whole structure to collapse.