Suicide bombings family member missing: Father had contact with Mahinda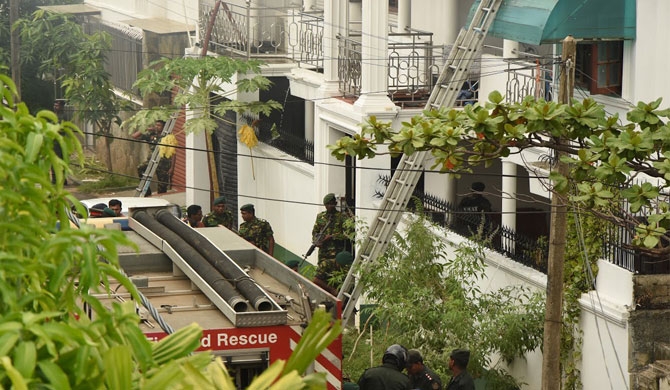 The youngest member of the Ibrahim family responsible for the suicide bombings at the Kingsbury, Shangri La and Cinnamon Grand hotels, Ismail Ahmed Ibrahim has reportedly missing.
His older brothers 33-year-old Imsath Ahmed Ibrahim and 31-year-old Ilham Ahmed Ibrahim had been responsible for the suicide bombings of the Kingsbury and Cinnamon Grand hotels.
Their father Alhaj Mohommed Yusuf Ibrahim who is a spice businessman, was arrested after a raid on their three storied luxury home in Dematagoda.
Another of his sons, 30 year old Ijas Ahmed Ibrahim was also arrested by the police. Mahommed Yusuf Ibrahim is currently in the custody of the Colombo Crimes Division.
When the police had gone to Yusuf Ibrahim's residence for a check, there were two explosions that occurred, killing three policemen.
It is suspected that when the police were on their way to the top floor of the house, some person with a remote control could have triggered the explosives.
When another police team had gone to inspect the house another explosion had taken place killing a 25-year-old woman Fathima Jiffry and her two children.
Investigations are underway to determine if the two explosions had been done using a remote control.
The police had also arrested three persons yesterday (22) who were behaving suspiciously close to the house where the explosions had taken place.
The father of the bombers, 65-year-old Alhaj Yusuf Mohommed Ibrahim who was arrested yesterday by the police had contested the last General election under the JVP, Wimal Weerawansa revealed at a media briefing yesterday.

However the spice businessman is also alleged to have had connections with Minister Rishath Bathiudeen and investigations had revealed that he had also had connections with Opposition Leader Mahinda Rajapaksa.
A photograph of Minister Rishad Bathiudeen in conversation with the spice businessman Ibrahim is currently being circulated on social media, but investigations had revealed that the said meeting had taken place 08 years ago. As he is a spice businessman, the photograph had been taken when the minister had met with a group of businessmen.