The president will not intervene in Athuraliya Ratna Thera's hunger strike? Why this Kolaveri to Maithri ?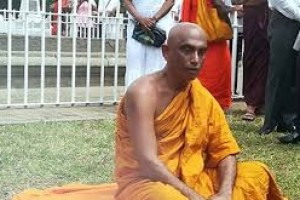 Parliamentarian Athuraliya Ratna Thera has launched a fast for the demand of  the resignation of Minister Rishad Bathiudeen, Governor of the Western Province, Assad Sally and Governor of the Eastern Provincial Councilor Hezbollah.

Atharaliya Ratna Thera started her hunger strike after the prayer took place on 31st of the Kandy Dalada Maligawa.

Today It has been the third day since Therar started his hunger strike until his death and he was checked by the Kandy Hospital doctor.

The member of Parliament - S.P. Dissanayake met Athuralya Rathna Ther, on hunger strike and had a talk a few minutes.

According to the President's Secretariat, President Maithripala Sirisena has not intended to intervene in the hunger strike organized by Athuraliya Ratna Thera before the Dalada Maligawa.

Furthermore, M.P. Dissanayake said that Atharaliya Ratna Thera should first meet and discuss the president before starting the protest and thereby The president does not intend to intervene in this regard .