Court action against former Northern Chief Minister Vigneswaran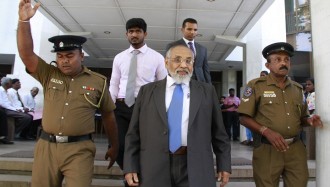 The Court of Appeal today ruled that the dismissal of former Northern Province Minister P. Deniswaran and former Chief Minister CV Wigneswaran was illegal.

Appellate court judges Mahinda Samayawardena and Priyantha Fernando, who announced the verdict of the case, announced that Deniswaran's dismissal and appointment of a new minister was illegal.

The Court of Appeal has ordered the petitioner to pay the costs of the case to P. Deniswaran. Former Minister of Transport Minister the Northern Province, P. Deniswaran  had filed a case in the Court of Appeal demanding that his dismissal be outlawed.

Meanwhile, a case filed against former Chief Minister CV Wigneswaran for contempt of court has also been decided to be taken up for hearing on September 10.