Grenade discovery at church, a conspiracy - Cardinal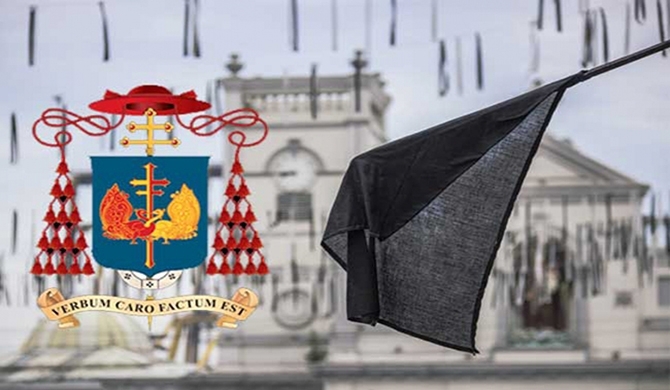 The Head of Sri Lanka's Catholic Church, His Eminence Malcolm Cardinal Ranjith, Archbishop of Colombo on Thursday (13) said the discovery of a hand grenade at a Colombo Church is a conspiracy. 
He flayed Sri Lanka Police over its handling of the investigation adding that authorities were presented a cooked-up story instead of revealing the truth.
His Eminence said detectives have only examined CCTV footage recorded from 3 PM the day the grenade was discovered and not from the morning, adding that morning footage clearly shows a man acting in a suspecting manner.
"At 9:52 AM, a man carrying a shopping bag was seen limping into the church. He was examining the surroundings. He enters a row of seats at the back. When a Catholic enters the church they perform the sign of the cross. He does something similar to that. But it's clear that he isn't a Catholic as he had done it the wrong way. He doesn't pray. He moves to the corner of that bench. We can see him approaching a statue in the corner. We can see him bending and taking out something presumably from his trousers or pockets. When another person was passing by, this person takes a quick look around and immediately leaves the church. This incident had taken place at around 9:52 am," he elaborated during a press briefing in Colombo on Thursday (13).
His Eminence slammed Sri Lanka Police for arresting a cleaner at the church over the incident, rather than investigating the man who was seen on CCTV acting in a suspecting manner.
"We can see that instead of finding out the truth, they are doing this to create a story. We reject the conduct of the police. I see this as a conspiracy." he added.