'Quiet diplomacy' underway over Chinese ship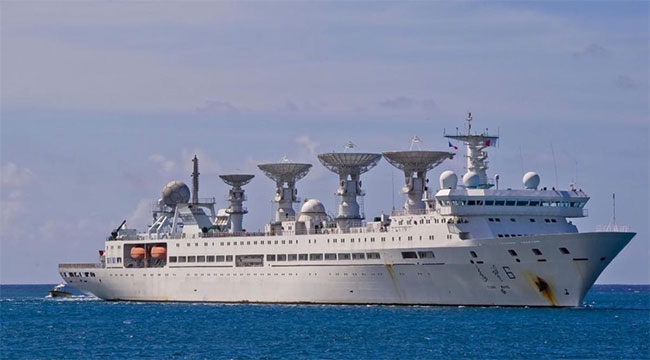 Amidst a potential diplomatic clash with far-reaching consequences, the Government of Sri Lanka (GoSL) is engaged in "quiet diplomacy" to persuade China to agree to its request to defer the docking of the Chinese vessel Yuan Wang 5 to dock at the Hambantota Port this week, diplomatic sources told The Morning, while the Chinese Embassy in Sri Lanka had requested an urgent meeting with senior Sri Lankan authorities over the matter.
Quiet diplomacy involves efforts by one State to influence the behaviour of another through discreet negotiations or actions, and is being employed by the GoSL in an effort to ensure that it antagonises neither China, which is crucial to its hopes of obtaining an International Monetary Fund (IMF) bailout, nor India, which has virtually bankrolled Sri Lanka amidst an unprecedented economic crisis.
The Foreign Affairs Ministry's East Asia Division had initially given permission to the Chinese space and satellite-tracking research vessel Yuan Wang 5 to dock at Hambantota Port. However, Sri Lanka's Defense Ministry had denied the vessel's arrival to foreign media in July, even as India raised concerns about it. In the face of intense pressure from India, the GoSL had issued a "third-person note" from Sri Lanka's Foreign Ministry to the Chinese embassy in Colombo dated 5 August, which requested that the arrival of the vessel be deferred until further consultations are made on the matter. Chinese Ambassador to Sri Lanka Qi Zhenhong had met with President Ranil Wickremesinghe after the receipt of the note and expressed China's surprise at the sudden change of heart by Sri Lanka.
After India raised concerns about the vessel, China's Foreign Ministry had responded to media questions about these concerns by stating: "China hopes that the relevant parties will view and report on China's marine scientific research activities correctly, and refrain from interfering with normal and legitimate maritime activities."
China plays an important role in Sri Lanka's economic recovery as the Government seeks a financing loan from the IMF, as the US-based fund said last week that Sri Lanka should kick off debt restructuring talks with its bilateral lender China. Moreover, Reuters reported last week that Sri Lanka has been in negotiations with China over several months for a $ 4 billion aid package.
On the other hand, India has provided Sri Lanka with almost $ 4 billion in aid this year, as Sri Lanka grapples with its worst economic crisis since Independence. Top level Indian officials were in the country for a one day visit in June as well.
Commenting on these tensions between the two Asian superpowers, the Tamil National Alliance (TNA) posted on Twitter: "We do not take sides with regards to power struggles between other countries. But we have also consistently stated that China's military presence in the Indian ocean would give India a legitimate defence concern, and that Sri Lanka should not accentuate that by providing space for Chinese military presence in Sri Lanka."
Meanwhile, Samagi Jana Balawegeya (SJB) MP Patali Champika Ranawaka yesterday (7) stated on Twitter that Sri Lanka should maintain friendly relations with all 193 countries in the world based on the non-aligned foreign policy that the country has been traditionally maintaining.
"In the meantime, it is crucially important that it should also be guided by a deep understanding that India, China, and Japan remain particularly vital stakeholders in resolving the Sri Lanka economic crisis, and our dealings on matters concerning geopolitical sensitivities of those nations are handled with diplomatic due diligence, and a high degree of professional maturity," he added.
Meanwhile, Prime Minister Dinesh Gunawardena last Saturday (6) thanked Indian PM Narendra Modi and the Indian people for the "generous" humanitarian assistance extended to the country.
Taking to Twitter, the Indian High Commission in Sri Lanka said that the PM said this in response to a congratulatory letter that was given from PM Modi that the enduring ties of friendship flourished between the two countries.
"India and Sri Lanka have flourished over the years into a mutually rewarding partnership across multiple spheres," it added.
In his congratulatory letter, PM Modi assured Gunawardena of India's continued support to the island nation and expressed hope that Sri Lanka will witness a quick economic recovery, ensuring the prosperity and wellbeing of its people.