Argentina beat France on penalties to win FIFA World Cup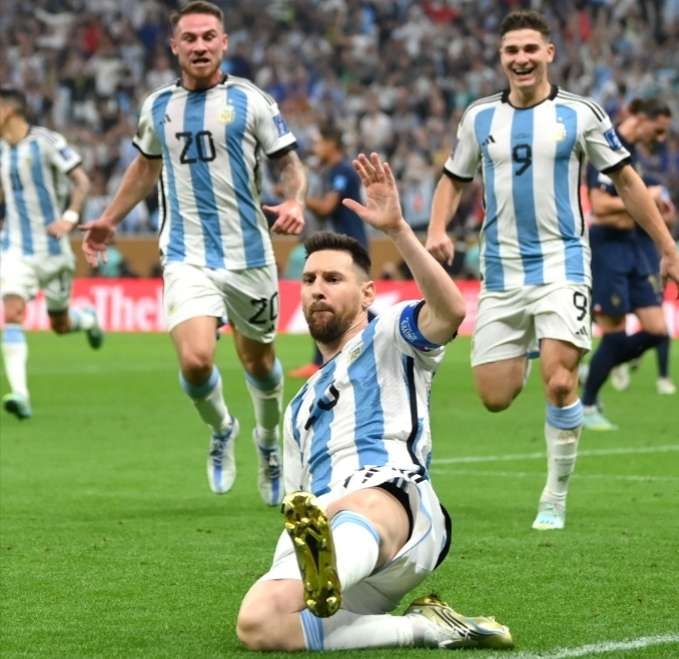 Argentina have won the 2022 World Cup after an extraordinary 3-3 thriller of a Final with France, as Kylian Mbappé scored a hat-trick to force Lionel Messi and Angel Di Maria into victory on a penalty shoot-out.
There are numerous Serie A players involved in the Argentina squad, including Di Maria and Leandro Paredes of Juventus, Inter striker Lautaro Martinez and Roma striker Paulo Dybala.
It was an extraordinary conclusion to the tournament in Qatar, although for 79 minutes it looked like one-way traffic with Lionel Messi converting a penalty earned by Angel Di Maria, then the Juventus star doubled their lead by finishing a well-worked team move.
Les Bleus didn't have a single shot for 65 minutes, but then Kylian Mbappé turned it all around with a penalty and 97 seconds later a fantastic volley.
It went to extra time at 2-2 and Inter striker Lautaro Martinez came off the bench to have three huge chances.
The first two were denied by desperate Dayot Upamecano blocks, but the third was parried by Hugo Lloris into the path of Messi to score with his right foot.
The attempted goal-line clearance failed as the referee's watch lit up to confirm the ball had gone over the line, while VAR also showed Lautaro Martinez managed to time his run perfectly to avoid the offside trap.
However, it still wasn't over, as Gonzalo Montiel's raised arm charged down a shot inside the box, so Mbappé converted the penalty to complete a hat-trick at the 118th minute and secure the Golden Boot as top scorer with eight goals.
Both sides still had huge chances in stoppages, but it went to a dramatic shoot-out. Mbappé and Messi were first up, but former Juventus flop Kingsley Coman saw his penalty parried by Emiliano Martinez.
Roma striker Paulo Dybala rolled his one right down the centre, having come on just to take this spot-kick, and Aurelien Tchouameni drilled wide.
Gonzalo Montiel made up for the handball by converting the decisive penalty and making Argentina World Champions for the first time since 1986.
Argentina 3-3 France
Messi pen 23, 108 (A), Di Maria 36 (A), Mbappé pen 80, 81, pen 118 (F)
Penalty shoot-out: Mbappé (F, goal), Messi (A, goal), Coman (F, Saved), Dybala (A, goal), Tchouameni (F, miss), Paredes (A, goal), Kolo Muani (F, goal), Montiel (A, goal)