Imran Khan warns of 'Sri Lanka-like' situation if elections not held in Pakistan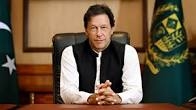 Pakistan Tehreek-e-Insaf Chairman Imran Khan has warned the 'powerful people' that violent protests will break out in the country if the elections were not held. "Pakistan would face a Sri Lanka-like situation," he added.
"This is not a warning, it is my analysis; the people till now have remained peaceful at the party rallies and public gatherings with a hope that the elections would be held soon.
However, if they were denied their right to vote then they will come out onto the streets and no one would be able to control the situation," the former Prime Minister said while addressing an interactive session with party workers through a video link here Saturday.
He said till now the coalition government was running away from the elections, fearing that they would lose and Imran Khan will return to power. "While keeping in mind Pakistan's precarious economic situation, till now I have taken party decisions that did not hurt our fragile economy, but if the elections were delayed the situation would get out of control," he added.
On behalf of the nation, he urged all Supreme Court justices to put their differences behind them and unite for the sake of the country. "Pakistan was on the verge of collapse; if the country's Constitution was breached, for which attempts were being made, there will be a law of jungle in the country. The nation was looking towards the Supreme Court for supremacy of the Constitution and the rule of the law in the country," he said.
Khan also announced to stage rallies in Islamabad, Lahore, and Peshawar to mark Labour Day on Monday; "I would lead the rally in Lahore from Liberty Chowk to Nasir Bagh while PTI senior leaders Shah Mahmood Qureshi and Pervez Khattak would lead the rallies in Islamabad and Peshawar, respectively". He said that on Monday they would show solidarity with the labour class and express their support for the supremacy of the Constitution and Pakistan. Thus, he urged people from all sections of society, especially the lawyers, to participate in the rally to express their demands for their rights.